The death of Sopwith Aviation and its re-birth as Hawker Aviation. Peace was the death of Sopwith Aviation. No one wanted to buy aircraft. Sopwith tried to keep solvent by producing a variety of products like kitchen utensils and ABC motorbikes. It still produced a few planes like the Sopwith Antelope with an enclosed two seater cockpit but in very few numbers. In 1920 they could only sell fifteen aircraft. The final blow was when the British Treasury demanded that Sopwith Aviation repay excess war profits. The company went into voluntary Liquidation in September 1920. The Government and its creditors were paid.
Harry Hawker Harry Hawker became a designer and chief test pilot for Sopwith Aviation. He later went on to become a director of H.G.Hawker Engineering which would later produce the Hawker Fury, Hawker Hurricane, Hawker Hunter and Hawker Siddely Harrier. Harry Hawker loved setting records. In 1913 he held the aviation speed record of 92 mph, the height record of 11,700 feet and the endurance record of 8 hours 20 minutes. He is remembered for working out how to correctly deal with an aeronautical spin. He correctly surmised that the counter-intuitive action of pushing the stick forward would solve the problem.
The Daily Mail News Paper offered £10,000 prize money to the first person to fly across the Atlantic Ocean. Harry Hawker and McKenzie Grieve tried to collect that prize in 1919. They flew a specially designed Sopwith plane called the Sopwith Atlantic. Part of the aircraft could be detatched to form a survival boat. They flew from West to East across the Atlantic. Their first problem was when their radio stopped working. The winds changed and now blew from the cold north instead of the predicted north-easterlies. They were blown 150 miles off course ans a consequence into a fog and cloudbank. Ice formed on the wings which added to the problems and then the radiator over heated and this forced them to fly in search of a ship. They new their record attempt was over. Luckily the Sopwith Atlantic kept flying for a further two and a half hours which enabled them to find the SS Mary which was bound for Lentland Firth having departed from the Gulf of Mexico. Hawker was able to land on the sea about a mile in front of the ship where they were then rescued. Because the ship did not possess a radio they were believed dead. Poems in Eulogy were written about the attempt. The news finally reached Britain when the two aviators were transferred onto the British Destroyer HMS Revenge. They were landed in Scotland and took the train down to London where they were treated as National Heroes and greeted by large crowds. The King, who was a great admirer, awarded them the Air Force Cross medal and the Daily Mail presented them with £5,000 consolation prize.


Harry George Hawker was born 22nd January 1889 in Moorabbin, Australia. He was the son of a Blacksmith who had emigrated from Cromwell. He did not do well at school and left at the age of 12. He accepted a job with Hall and Wardens where he learnt the skills of mechanical engineering at their bicycle depot. Between 1905 and 1907 he qualified as a motor mechanic whilst working for Tarrant Motor and Engineering Co. Between 1907 and 1911 he ran his own car servicing workshop at Caramut in Western Victoria, Australia. His grounding in the automobile trade and how to tune and repair engines would become useful to him. At the age of 22 he left Australia for London. After a short holiday he had hoped to find employment but without references he found it hard to get work. He was now an adult and most companies were looking for younger workers who cost less. He was thinking about returning to Australia when in 1911 he found work with an Engineering firm called Commer Car Company. In February 1912 he moved to the Mercedes for a higher wage and then to Austro-Daimler. His final move in the summer of 1912, was to Sopwith Aviation based around a flying school at Brooklands Racing Track, Weybridge in Surry. The Company was currently involved in building Howard Wright biplanes. To the young Harry Hawker it opened up the new world of aviation. Employed as a mechanic, he became the 15th member of Sopwith's work force. He used some of the money he had saved from his previous employments and paid his new boss for flying lessons. Harry Hawker was a natural and made his first solo flight four days after his first flying lesson. By the end of the year he had reached such a level in his flying abilities that he was able to teach others to fly. After a while he was looking for more challenges and found it in competitive flying. He won the British Empire Michelin Cup for endurance winning £500 in prize money. He broke the world record by flying for 8 hours 23minutes in a Sopwith modified American Burgess Wright Biplane. The Brooklands Automobile Club offered a £50 prize to the first pilot who broke Goffrey De Havillands height record of 10, 650 feet. This was Harry Hawkers next challenge. In a Sopwith Tractor biplane he became the new solo height champion as he managed to fly his plane up to the height of 11,451 feet. That same year he broke the height records for two manned, three manned and then four manned aircraft.





Harry went back to Australia with the ideal of starting up a business making aeroplanes if he could get some order. He had enough money to buy his own aircraft from Sopwith and he shipped it to Melbourne. He was received as a hero in his home country. He went on a round of aviation displays in his Sopwith Tabloid biplane. He even gave a life to the Australian Minister of Defence. He decided to return to England, as the orders never materialised. Hawker became the chief test pilot for Sopwith Aviation for the duration of WW1. He influenced the design of World War One aircraft by demonstrating that biplanes were more manoeuvrable and faster than the monoplanes of that time period. Harry Hawker suffered a permanent injury after a crash when his Sopwith Tabloid' stalled and went into a tailspin whilst doing loops. He landed in the trees adjacent to the airfield. He suffered a back injury which gradually became worse during the few reaming years of his life. He was awarded the Order of the British Empire. For his work in the development of a number of aeroplanes such as the 'Sopwith 1 ½ Strutter', the 'Sopwith Camel', the 'Sopwith Pup', the 'Sopwith Triplane', the 'Sopwith Dolphin' and the 'Sopwith Snipe'.
Harry Hawker developed a liking for motor racing after the war when the Brookland's Race track reopened in 1920. In the same year Harry formed H.G. Hawker Engineering Company.and drove the first car to reach 100 miles an hour. He tragically died in 12th July 1921 in an air accident. He was flying a Nieuport 'Goshawk' at RAF Hendon when it caught fire. He managed to extinguish the fire and made a forced crash landing. He was thrown clear of the wreckage but he was very badly burnt and injured in the impact. He lived for only a few minutes. He was buried in St Paul's Church, Hook Road, Hook, Surrey just off the A3
H.G. Hawker Engineering Co. Ltd Athough Sopwith Aviation went into voluntary Liquidation Thomas Sopwith was not out of the Aviation business that easily. In November 1920 he started a new company called H.G.Hawker Ltd. Harry Hawker was one of Sopwith's test pilots. Hawker was one of the four directors of the new company along with Sopwith. Harry Hawker's flying exploits were famous. Sopwith needed Harry to help the public image of the company. The new company gave up the large premises at No1 Aircraft Factory, Ham and went back to the old roller rink premises in Canbury Park Road. Kingston.
In 1933 the company name changed to Hawker Aircraft Ltd 1933 and in 1935 it changed again to Hawker Siddeley Aircraft Ltd. It started business by building motorcars and motorbikes and charging for rebuilding and servicing used aircraft. The RAF started to place small orders for new aircraft. Hawker hired a brilliant new chief designer Sydney Camm. Under his leadership, Hawker scored a substantial success with a single-engine bomber, the Hart. Rather than wood Sydney Camm introduced into his designs a steel framework which was lighter and stronger. The singled engine Hawker Hart bomber was a great success and only had an empty weight of 2,530 pounds (1,148 kilograms). The Hawker Hart was the fastest military aircraft of its day when it entered service in 1930. The Hart had a top speed of 184 miles per hour (296 km /h),30 mph (48 km /h) faster than biplane fighters that tried to intercept. Although designed as a bomber because of the plane's high speed it was adapted for use as a fighter. The Royal Navy Air Service ordered Hawker Harts with pontoons for use on aircraft carriers. The Hart made Hawker into a profitable company as more than 3,000 Harts were made during the 1930s. It was the main interwar aircraft of choice. With the profits from sales of the Hawker harts Thomas Sopwith chairman of Hawker brought up other aircraft companies including famous names like Gloster Aircraft, Armstrong Siddeley Motors, Armstrong Whitworth Aircraft, Air Service Training, and A. V. Roe. The company was reorganised and renamed. It was now called the Hawker Siddeley Aircraft Company.
In 1935 the Under-Secretary of State for Air, Sir Philip Sassoon, announced a sharp increase in the purchase of fighters and bombers due to the rising threat of war with Germany. This change in policy happened at a time a time when aircraft design was changing dramatically due to the introduction of new technology and materials. The best aircraft of the day in operational service were still biplanes. That soon changed to the introduction of all metal framed monoplanes. They were heavier than Biplanes but with excellent streamlining and superior construction materials that could take the loading these new machines were faster than those they replaced. Hawker was in the right place at the right time. Sydney Camm was ready with his radical Hawker Hurricane fighter design. The directors of Hawker had so much confidence in the new fighter that they put it into production even before they received the official order from the Air Ministry. It entered Service with the Royal Air Force in 1938 and had a top speed of double that of the RAF's Current fast fighter the Hawker Hart. This plane was a revolution. It had a top speed of 325mph (523 Km/h).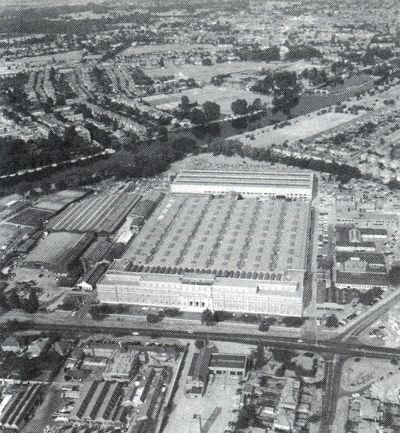 The Hawker Huricaine was designed and first produced built at Hawkers factory in Canbury Park Road, Kingston-upon-Thames. Later, to meet bigger orders for the Hurricane fighter, they again leased No1 Aircraft Factory, Ham in South West London where they started production on a larger scale. Hurricanes were also built at the newly built airfield at Langley near Slough just prior to world war two. The Hawker Hurricane emerged as the outstanding fighter of the Battle of Britain. It was always out shone by the visually prettier Supermarine Spitfire but it was the Hurricane equipped squadrons that shoot down 55 percent of all enemy aircraft destroyed. The Hawker Hurricane had the ability to withstand battle damage. It was easy to repair and could operate from poor quality airfields. The company was now based in Kingston, Langley, Dunsfold and Blackpool.
The next famous aircraft produced by the Hawker company was the Hawker Typhoon. It first flew on 24 February 1940. It was a single seat fighter and fighter bomber. Again like the huricanne that it was designed to replace it was of an all metal structure. For Power it had one 2,200 hp Napier Sabre IIA twenty four cylinder H type liquid cooled sleeve valve engine. It had either twelve 0.303 in Browning machine guns or four 20 mm cannon mounted in the wings. It had a rack for one 1,000 lb or 500 lb bomb under each wing.
The relacement for the Hawker Typhoon was the Hawker Tempest Single seat fighter and fighter-bomber. It had four 20mm British Hispano cannon completely buried in the wings. In addition, eight rocket projectiles or two 1,000 lb bombs may be carried under the wings. It had a max speed 426 mph at 18,500 ft. The first flight of the Hawker Tempest was on 2nd September 1942. Only one Mk1 Hawker Tempest was made compared with 304 Hawker Tempest by Hawker Aircraft Ltd and 50 by Bristol Aeroplane Co Ltd. Hawker made 800 of the Hawker Tempest MkV and 142 of the Hawker Tempest Mark VI
The Hawker Sea Fury Single seat naval fighter or photographic reconnaissance monoplane first flew on 1st September 1944. Its armourment was four 20 mm British Hispano Mk.5 cannon mounted two in each wing. Racks below wings for two 500 lb bombs, or twelve 3 in or 5 in rocket projectiles. It had hinged wings to enable it to be stored on aircraft carriers.
After World War Two Hawker's Sydney Camm took advantage of the power of the new jet engines by developing the Hawker Hunter fighter-bomber. It first flew on 20th July 1951. Its Armament was Four 30 mm Aden guns in self contained removable package in underside of fuselage nose. Four underwing pylons. A world speed record of 728 miles per hour (1,172 kilometers per hour) was set by the test pilot of a Hawker hunter in 1953. Over 2,000 Hawker Hunter ground attack jet fighters were built by 1960. It remained in service until 1980 even though there were faster fighters being developed between 1960 and 1980. The Hawker Hunter did not require supersonic speed for attacking ground targets and could be refuelled and rearmed in five minutes
The Hawker Sea hawk Single seat naval jet fighter took over from the Hawker Sea Fury. It first flew on 2nd September 1947. Its armourment was Four 20 mm cannon mounted in lower portion of fuselage nose. Provision for bombs or rocket projectiles on underwing racks. It had hinged wings to enable it to be stored on aircraft carriers.
In 1957 the British Minister of Defense, Duncan Sandys announced that because of cut backs Great Britain not build any new fighter aircraft for the Royal Air Force. The industry was free to collaborate with the United States and France. This horrified the industry and they responded with a new wave of mergers. Hawker Siddeley took over the big firm of De Havilland Aircraft in 1960. Vickers, English Electric, and Bristol Aircraft united to create British Aircraft Corporation. The engine-builders Bristol Aero-Engines and Armstrong Siddeley combined in 1959 to form Bristol Siddeley. Rolls Royce, the nation's leading engine builder, merged with Bristol Siddeley in 1966.



The British government reversed its policy when they saw the next revolutionary aircraft to come from the drawing boards of the Hawker designers. It was the Harrier jump jet that amazed the world and would assist the British Armed Forces take back the Falkland Islands. The Harrier was the worlds first vertical take off and landing ground attack jet fighter. Hawker's Ralph Hooper, a senior manager, was very interested in the new Bristol Aircraft Pegasus engine with nozzles that could swivel in any direction. The engine could direct its thrust downward to take off and land vertically, to hover, to stop in midair, and to manoeuvre in flight. Hooper was given approval from Hawker Siddeley to build an experimental airplane, the P.1127, which first flew in 1960. The British ministry of Defence purchased Harriers for both the Royal Navy and Royal Air Force. Harrier jump jets first entered operational service in 1968. The American Government was so impressed when they inspected the Harrier that they ordered their own harriers to equip the U.S. Marines. This lead to Hawker Siddeley forming a partnership with American firm McDonnell Douglas. This enabled the continued development of the of the Harrier allowing it to have an operational life of over 40 years.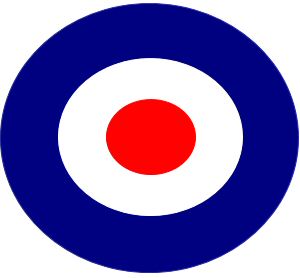 The end of Hawker Siddeley Ltd In 1977, by an act of Parliament Hawker Siddeley was combined with British Aircraft to form a single enormous company, British Aerospace. But old Thomas Sopwith, Sir Thomas, having been knighted in 1953, was still very much alive. He had been the founder of the Sopwith Aviation company, chairman first of Hawker and then of Hawker Siddeley since 1920. His companies had produced aircraft that saved Britain from defeat in the first and second world war and in the Falkland Island war. The British owe him, his employees and the men who flew his planes a big dept of gratitude. He is an unsung British hero of the 20th Century. He died in 1989 at the age of 100 years, as the last pioneer from the early days of British aviation.